Shruti Haasan's Workout Tips:
Shruti was never a gym freak until she was bitten by the acting bug which forced her to take her workout sessions seriously in order to maintain a healthy and fit body. She swears by her running sessions and recommends it to everyone as a good run increases a person's agility, stamina, endurance and strengthens the core. Other than running, Shruti does regular cardio training. Cardio exercises are one of the best exercises to burn those extra calories and lose weight. Her favourite way to exercise is a 45-50 minute dance session that relieves stress while helping you lose weight.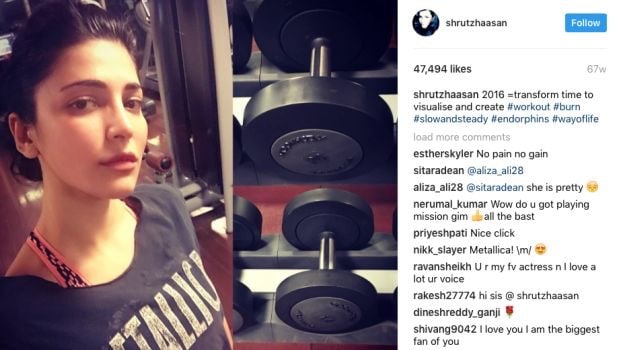 Picture Credit: Instagram/ShrutzHaasan
Shruti Haasan's Diet Secrets
Shruti has been honest with her dieting blunders and openly accepts trying crash diets and skipping breakfast which didn't seem to work for her. She has often shared how she now understands the importance of nutrition and takes her diet and meal plans very seriously. She ensures to take in the right amount of nutrients, believes in eating healthy and opposes the idea of starving oneself or skipping meals. Her diet is a balance between the right amount of protein and carbs and her meals usually include eggs, muesli, Idli (South Indian Cuisine), fresh fruits, green leafy vegetables, salads, soups and grilled chicken. Shruti has revealed that her two favourite foods are sushi and sambhar. Quite a contrast, we must say!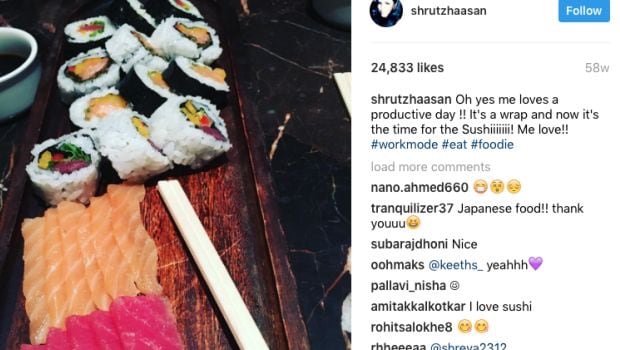 Picture Credit: Instagram/ShrutzHaasan
She drinks a lot of water as it detoxifies the body and keeps it hydrated. Her favourite beverages to hydrate herself instead of water are coconut water and watermelon juice.
Read More: Shruti Haasan's Diet & Fitness Routine